Why Handwriting?
"If I could organize my day,
just in terms of pure enjoyment,
I would be with other people at a whiteboard."
Jeff Bezos, founder of Amazon, from televised interview

When it comes to being understood, handwriting matters now more than ever.
Your handwriting conveys your uniqueness, instantly. Handwriting helps us learn, share ideas, and be creative. We need a handwriting style that keeps up with the demands of modern life. It needs to be legible and logical, easy to write and easy to learn. Handwriting today is still a professional skill.  It's your personal voice on paper. At its best, it's a source of pride.
And yet, as authors Barbara Getty and Inga Dubay write, "American handwriting is in a woeful state. Schools' prior insistence on teaching looped cursive handwriting has left a generation of Americans with script they dislike or is often illegible.
"The Palmer method and subsequent 20th century methods were based on an ornate style that was difficult to learn and broke down under pressure. The loops and curlicues of Palmer and other similar methods obscure legibility. For good reason, one rarely finds looped cursive in print media or computer fonts. We have become a "please print" nation. Even worse, we have failed to find a replacement.
"But there is hope. We can stop mumbling on the page and become legible writers by turning to a style that existed long before Palmer rendered our world illegible. We can go italic."
The following New York Times Op-Ed by authors Barbara Getty and Inga Dubay makes the case that all cursive styles are not equal. We need a cursive style that meets the demands of modern life, allowing us to move seamlessly from print to script.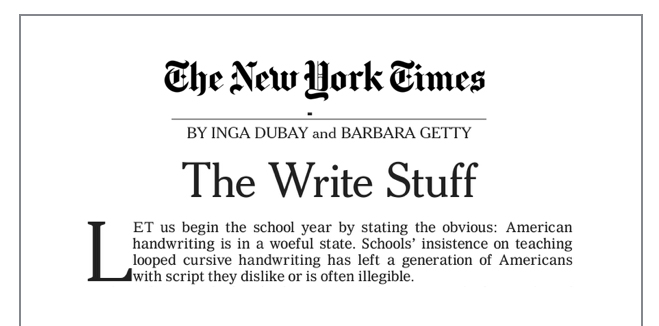 What is Cursive? | Why Calligraphy? | Write Now for adults | Italic Handwriting Series for K-6